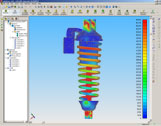 NEi Fusion combines an FEA Modeler, comprehensive pre and post processing capabilities, and Nastran solvers to create an analysis package for small and medium size companies, consultants, and any engineer who needs affordable, professional level simulation for product development, virtual testing, design validation, and quality assurance. Parts and assemblies can be analyzed for a wide spectrum of static and dynamic structural and thermal loading.
Why wait until prototypes are built, expensive test fixtures developed or actual field usage to find out how your design will perform? NEi Fusion lets you apply forces, pressure, thermal conditions, temperature, vibration, and impact loads and more. You see the deformation, stresses, strains, heat transfer, and modal shapes that your design will experience. Through a variety of highly visual images, contour plots, animations, graphs, and output data, you get the engineering insight you need to innovate and optimize, so you can achieve the best quality, lowest manufacturing costs, and fastest time to market in today's hyper competitive global marketplace.

NEi Fusion Modeler. The NEi Fusion Modeler is built on an industry proven, Windows based, fully associative, parameterized, feature based, solid modeling engine that provides a full set of advanced and powerful tools for fast, easy, intuitive, and robust model creation. A wide range of CAD data import capabilities complements the 3D modeling tools to help you build your models quickly when existing CAD files are available.

NEi Fusion Pre Processor. A comprehensive element library, sophisticated meshing capabilities, and extensive material library insure you get real world fidelity and professional level simulation.

NEi Fusion Nastran Solvers. NEi Fusion employs the same industry regarded NEi Nastran Solvers found in all of our analysis products. That means you can expect solutions that are accurate, precise, and reliable. Nastran assures that you achieve the best possible real world representation along with extremely fast turn around time on solutions.

NEi Fusion Post Processor. NEi Fusion post processing not only provides a wide variety images, graphs and data by which to view your simulation results but also is equipped with wide file sharing and import/export capabilities so you can easily share your FEA models and results with vendors, design partners, suppliers, customers, and other segments of your organization. An important consideration in today's highly collaborative work environment.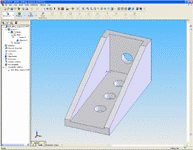 NEi FEA comes with the choice of Basic or Expert solver packages.
Basic. This solver suite allows analysis and simulation of Linear Statics, Modal Analysis, Buckling, Prestress, and Steady State Heat Transfer problems.

Expert. This solver suite comes with all the analysis types in the Basic package and adds Advanced Dynamics, Nonlinear Analysis, and Transient Heat Transfer.
Capabilities
General Capabilities
Full single-window integration between solid modeling and analysis
Direct use of CAD geometry for analysis
Direct application of analysis input data to CAD geometry
3D visualization of analysis results on original CAD geometry
FeatureManager™ for geometry, analysis and result visualization data
Customizable analysis tree
Dynamic editing of all geometric and analysis features
Powerful configuration management for easy "what if "design variations (geometrical and physical)
Comprehensive support for bi-directional CAD data exchange with most major CAD packages
Comprehensive, context-sensitive HTML-based help system and tutorials
CAD Interoperability
Native file translators to and from nearly all mechanical CAD products on the market today: Pro/ENGINEER®, IPT (Autodesk Inventor®), Mechanical Desktop®, Unigraphics®, PAR (Solid Edge®), CADKEY®, IGES, STEP, Parasolid®, SAT (ACIS®), VDA-FS, VRML, STL, DWG, DXF™, TIFF, JPG, Viewpoint, RealityWave, HSF (Hoops)
Supported standards: ANSI, DIN, ISO,GOSJIS, GB and BSI
Part Modeling
Feature based, fully associative, parameterized solid modeling
FeatureManager™ dynamic design tree (e.g. re-order, drag & drop, etc.)
Integrated sketching (dynamic referencing)
Extrudes, revolves, feature patterns, holes, etc.
Advanced 3D operations, e.g. lofting, sweeping, complex blending, filleting, etc.
Advanced shelling, midsurfaces
Multi-body support
Advanced surface modeling: lofts and sweeps with guide curves, fill-in holes, drag-handles for tangency control, etc.
Trimming, extending, filleting, and knitting surfaces
Translating, rotating, copying, and mirroring surfaces
Support for creating 3D models from existing 2D data, e.g. 2D-to-3D extrusion, etc.
Multiple design variations with Configuration Management, DesignTables
Assembly Modeling
Fully associative: referencing of other parts and maintaining relationships when creating new parts
Complete range of mating conditions, snap-to-fit SmartMates™
Locating conflicting mate relationships with Mate Diagnostics
Dynamic assembly visualization
Real-time previewing of components, parts
Easy designing and changing of parts and subassemblies from within an assembly
Mirrored components to create new parts and assemblies based on existing designs
Multiple assembly design variations with Configuration Management for easy "what if" design scenarios
Meshing
Global and local controls for part geometry with default sizing
Mesh control on arbitrary user defined regions
Free surface meshing: quads or triangles
Auto mesh, loads and constraints update with geometry changes
Mesher Status Window
Loads and Boundary Conditions
Loading applied on faces, edges and vertices
Uniform pressure normal to surface and force on faces
Directional and non-uniform pressure and force
Force on edges and vertices
Acceleration loads
Gravity (translational acceleration)
Enforced displacement
Enforced rotation ( plates)
Temperature, default temperature and heat flux
Symmetric, antisymmetric, axisymmetric, cyclic symmetric boundary conditions
Fixed constraints on faces, edges and vertices
Directional and prescribed constraints
Thermal constraints
Element Library
3D solid: tetrahedron both linear or parabolic
2D shell: quadrilateral and triangular plates, membranes using faces of solids
Rigid elements
Materials Types
Isotropic
Orthotropic
Nonlinear materials

Nonlinear elastic
Elasto-plastic
Plastic

Hardening

Isotropic
Kinematic
Combined

Yield

Von Mises
Tresca
Mohr-Coulomb
Drucker-Prager

Custom stress-strain data
Material Orientation
Vector projection
Curve tangent
Rotated curve tangent
Translated curve tangent
Surface U and V directions
Surface Contact
Automatic mate dependent contact pair generation
Free and welded contact types
Static friction
Coordinate Systems
Cartesian, cylindrical and spherical coordinate systems
Referencing global assembly, part or custom coordinate systems for loads and constraints
Analysis Types
Linear Static
Linear Dynamics
Linear Buckling
Nonlinear Stress
Nonlinear Buckling
Thermal Stress
Prestress Static
Prestress Normal Modes
Composite
Contact Analysis in Assemblies
Linear Steady State Heat Transfer
Post-Processing
Stress, deformation plots
Principal and directional stress plot
Strain plot
Resonant frequencies, mode shape plots
Temperature, heat flux plots
Iso-surfaces
Results across composite laminates
Export to other FEA systems
Customizable material library
Graphics
OpenGL graphics taking advantage of the latest Computer Graphics chips
3D dynamic pan, zoom and rotation
Hidden line and wireframe display
Light source shading and transparency
Analyst Configuration contains advanced features available through the Editor
Spring and rigid elements
1D elements: rods, beams and trusses
Anisotropic and temperature dependent materials
Initial strain analysis
Inertial relief analysis
Tabular results listing
Detailed HTML report customization
Animations (AVI)
Single and multi-load set animations
Interactive data query with mouse
Parameter setup and control
Compatibilities
Nastran input file can be sent to any Nastran FE Solver including NEiNastran, NX Nastran, or MSC.Nastran.
Binary results file in OP2 format usable by all Nastran solvers and wide variety of post-processors.
NEi Fusion comes in two configurations: Designer and Analyst.
Designer Configuration: this is the lowest price option. The low price is achieved by coupling the NEi Fusion Modeler and the NEi Nastran solvers together so that they must be used together, that is, the NEi Nastran solvers cannot be used with any other pre- and post-processors. If wider level analysis capabilities are ever needed, an upgrade option exists that enables conversion to the Analyst Configuration for unrestricted use of NEi Nastran solver capabilities with other pre/posts.

Analyst Configuration: in this version, the NEi Nastran solvers are independent of the NEi Fusion Modeler and are available to work with any other pre- and post-processors. The Analyst Configuration arrangement is useful in environments where multiple pre- and post-processors may be needed or are in use (e.g. NEiNastran Modeler, FEMAP, Patran, HyperMesh, ANSA, and others). Also, the Analyst Configuration includes the NEiNastran Editor. This feature enables additional post-processing capabilities, model data editing, and access to real time solution data.