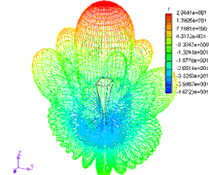 SINGULA, created with the same leading edge technology as Integrated Engineering Software's world-renowned low frequency electromagnetic design tools is your choice for applications requiring high frequency electromagnetic analysis. Utilizing our innovative Boundary Element Method (BEM) technology, SINGULA has been specifically designed to handle complex high frequency electromagnetic problems where other conventional programs break down. SINGULA's advantage is clear when solving for large open region problems and where the modeling of boundaries must be precise.
Design engineers depend on SINGULA for the design and analysis of high frequency components including:
electromagnetic scattering from dielectric/conducting bodies, open surfaces and conducting wires
wire antennas (monopole, dipole, yagi, helix, spiral)
surface antennas (planar strip, spiral and reflector)
dielectric antennas (resonant and standing wave) on infinite/finite ground planes
various current sources, wire/surface antennas in presence of dielectric/conducting bodies
EMC/EMI interactions
electromagnetic effects on human bodies
Quick, productive...up and running in no time
SINGULA maximizes productivity by allowing for the simulation of virtual prototypes on the computer. SINGULA significantly reduces design and prototype costs and provides engineers far greater insight into design optimization and verification.
As easy as one, two, three
SINGULA provides fast accurate results, exact modeling of boundaries and easy analysis of open region problems. No Finite Element Mesh (FEM) is required. SINGULA delivers a powerful, easy-to-use design and analysis tool right to your desktop. SINGULA goes to work in just three easy steps.
Create your design through our geometric modeler or import from your CAD program.
Assign the physical attributes of the model.
Analyze the model, display the results and optimize for performance.
Advanced technical features
Intuitive and structured tool-bar interface maximizes productivity for experts and beginners.
Periodic and symmetry features minimize modeling and solution time
High quality graphics and text utility for preparation of reports and presentations
Data exportable to formatted files for integration with spreadsheets and other software packages
Batch function allows unattended solution of multiple files
Powerful parametric feature allows definition of variable parameters to be stepped through providing analysis of multiple "what-if" scenarios and
facilitating design optimization
Incident plane wave, line, surface, volume current & voltage excitation
Permeability, permitivity and conductivity data stored in convenient and rapidly accessible tables
A wide range of H, B, E, D field and current density components
Scalar and vector field parameters displayed in various forms including contour or arrow plots, color bands, surface representations, polar rectangular plots and 3D patterns
Volume and surface current density
Near and far field results
Radar cross-section
Gain, directivity and axial ratio
Input impedance, admittance and scattering parameters
Rectangular plots of current, fields and input impedance; polar plots of power gain; contours of currents and fields; 3D surface plots of radiation patterns; Smith chart of s-parameters
Input power, dielectric and conductivity power loss, radiation power and radiation efficiency