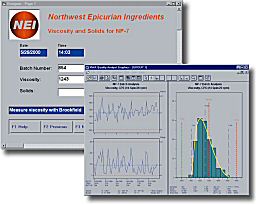 NWA Quality Monitor gives manufacturing plants and laboratories a single, unified data collection solution for quality assurance/quality control (QA/QC) test stations, in either stand-alone or networked systems. It is used by world-class manufacturers and laboratories to improve the accuracy and efficiency of data collection and to more closely monitor processes in order to quickly identify and diagnose potential problems before they happen. Quality Monitor automates the collection of test station data, standardizes testing and data collection workflow procedures, and provides real-time product quality feedback throughout the operation. Combined, these capabilities help companies manage and improve their manufacturing and laboratory processes, improve quality, and reduce costs.
Uniform Solution
With NWA Quality Monitor, all plant floor workstations use the same core software with task-specific configurations for each application.
Operator interface and chart formats can be standardized. The context sensitive, on-line help system can support your standard operating procedures and simplify meeting quality-assurance and vendor-certification-program requirements. The result is a uniform system with shared, common procedures throughout your facility or company.
Cost-Effective
NWA Quality Monitor is cost-effective in implementations ranging from a single-user workstation to integrating with plantwide information systems.
Inexpensive to implement and support, it can be installed and configured by you and your existing staff. NWA Quality Monitor virtually eliminates manual recording, transcribing, and charting of data, freeing your quality-control staff for more productive work.
Because NWA Quality Monitor collects data from all standard measurement and interface devices, you avoid the costly duplication of training, management, and support procedures that result from using different software for each device.
Easy to Set Up
NWA Quality Monitor combines a full-screen visual designer with wizard-based setup tools to provide a configuration environment that is both easy to use and capable of meeting the most demanding data collection requirements.
Customized data-entry screens are built using a familiar drag-and-drop, point-and-click interface. You can select from a variety of preconfigured templates or create complete User Interface designs from scratch.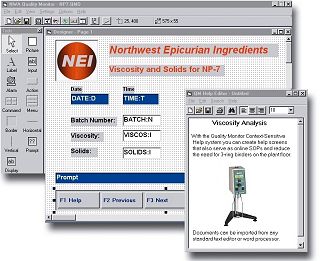 Easy to Use
NWA Quality Monitor's flexible design capabilities allow you to match the user-interface to both the requirements of the item being tested and the user's capabilities. Data collection and analysis can be standardized to match your SOPs and customer requirements.
Design features include:
Fully definable full-screen user interface
Point-and-click or function-key operation
On-line context-sensitive help
Built-in calculations and look-up tables
Visual and audible alarms for out-of-specification and control conditions
Automatic or one-click SPC charting
Validity checking for keyboard and device input
Easy to Integrate
NWA Quality Monitor is designed to be the plant-floor test station component of your manufacturing or process information system.
Integration features include:
Direct data connection to any ODBC-compliant database
Local and distributed alarming
Interfaces with the most popular MES, CIM, ERP, and LIMS systems
Automatic recovery from network failure
Easily shares data with NWA's family suite of analysis and reporting products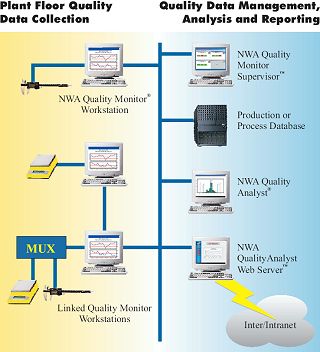 Easy to Interface
Interfacing measurement devices to PCs can be one of the most difficult parts of setting up plant-floor data collection. NWA Quality Monitor comes with an extensive list of preconfigured device interfaces, including most electronic scales, gages, and multiplexers, and a wide range of specialized devices.
Adding device input to an NWA Quality Monitor data-entry screen is usually done with a few mouse clicks. In addition, device and port configuration tools provide for easy creation of new device interfaces and solving communication problems.