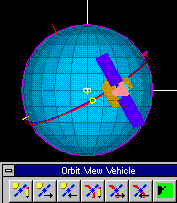 RadCAD is a thermal radiation analyzer available for use with Thermal Desktop or stand alone. RadCAD uses Monte Carlo Ray Tracing to calculate form factors, radiation conductors, and heating rates for true conic surface representations for input into SINDA/FLUINT. RadCAD is the first radiation analyzer to integrate arbitrary CAD generated surfaces with familiar parameter-based (TRASYS like) surfaces.
Why use RadCAD
There are many reasons to use Thermal Desktop/RadCAD and a full report can be found here. A quick summary of the three major reasons is listed below.
Thermal Desktop/RadCAD uses snap on model building. Thermal Desktop is CAD based. This allows Thermal Desktop to take full advantage of CAD model building. Whether you are sketching your Thermal Desktop surfaces over an IGES wireframe or snapping new surfaces to the referenced points of existing surfaces, you'll find that you are building your model more accurately and faster than ever.

Thermal Desktop/RadCAD runs on a PC. Finally, the thermal engineer doesn't need two computers. Thermal Desktop runs on the same PC under the same OS as your word processing system (see system requirements for details). No more transferring your phone and going to a computer room. You can work right at your desk and easily switch between developing your model and documenting it.

RadCAD is fast. RadCAD uses proprietary advances in Monte Carlo ray tracing to achieve remarkable calculation speed. One significant advance is the progressive radiosity routine used to turn view factors into radiation conductors. At C&R, we are keeping up with the latest technology to provide users with the fastest most accurate solution possible.
RadCAD Features
Monte Carlo Ray Tracing to calculate form factors, radiation conductors, and environmental heating
Calculations using Monte Carlo ray tracing or advanced radiosity methods
Proprietary advances in Oct Cell technology for amazingly fast computations
True curved geometric surfaces
Specular and Diffuse surfaces
Angular dependent surface properties
Variable model geometry with planet, sun, and star tracking
Full Orbit plotting package with both basic and Keplerian input
Analysis groups offer significant speed savings
Optical Property Aliases help in database management
Refraction capabilities for transparent specular surfaces
Automatic Oct Cell optimization for determining best subdivision and surfaces per cell criteria
Articulators can now be functional between user specified orbit positions
Vector List Orbit definition for modeling trajectory orbits
Arbitrary source input for modeling IR/Sol Lamps
Fast spinning surfaces
Symmetry/Mirror planes
Automatic restart determination
Free Molecular Heating (FMH) algorithms have been added to allow calculation of heating loads during ascent of launch vehicles
Quick checks to allow for finding surfaces that overlap to aid in radiation model debugging
Import and Export Capabilities
TRASYS import and export
Nevada import
STEP-TAS import and export
IDEAS import
FEMAP import
STEP-209 import and export
NASTRAN import and export of temperature mapping
TSS import and export