Graphical User Interface for SINDA/FLUINT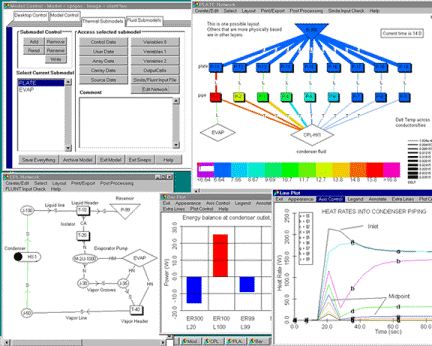 SinapsPlus is a complete pre- and post-processing tool for SINDA/FLUINT. Users sketch their thermal and/or fluid circuits on the screen, validate inputs, launch a SINDA/FLUINT run, and then visualize results on their original schematic.

Features
Input, validate, launch, and post-process SINDA/FLUINT from within SinapsPlus
Sketch networks/schematics, use pop-up forms and buttons to create inputs
Results displayed on user's sketch
Color/shade by input or output
Pop-up X-Y, bar, and polar plots
Reads existing SINDA/FLUINT ASCII (text) input files
Easily handles large SINDA/FLUINT models
SINDA/FLUINT can be resident, or remote on a different type of platform
SinapsPlus Prebuilts
A prebuilt model is essentially a SinapsPlus-based SINDA/FLUINT model that may be modified and then re-executed. Prebuilt models require no software purchase, licensing, or compiler to execute. The user must have the SinapsPlus and SINDA/FLUINT demos installed.
C&R Technologies has generated several prebuilt models and associated usage documentation for common problems such as fin (extended surface) performance, single- and two-phase pipe flow, vapor compression cycles, etc.