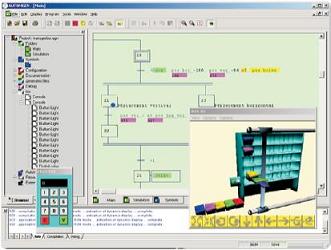 AUTOMGEN is a workshop for automation, 2D/3D process simulation, and pneumatic, hydraulic and electrical simulation that runs under Windows.
It is used in teaching for learning about automations, and within the industry for application development. The outstanding user-friendly development environment allows the operators to concentrate on the essential part of their work.
Features:
Automatism application designing.
Program generation for PLCs, specific targets and PCs (using the PC as automaton with input and output card guidance).
Supervision application designing.
3D simulation of operative elements, generation of demonstration animation.
3D design importing (3D studio, AUTOCAD, SOLIDWORKS, SOLIDCONCEPTER, etc.).
Fully configurable environment.
Generation of self compacting executives for deployment of applications.