Project Desk
de asKSam Systems

Potente sistema de desarrollo de proyectos basados en Web así como de la gestión de tareas en curso.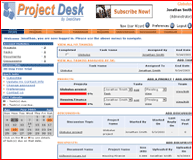 Project Desk is an online project and task management tool which provides a virtual workspace to facilitate effective communication between team members. It helps you to share information and work jointly on projects and efficiently use all available resources.

As a project manager, you need to manage your team members and their activities to complete your project on time. Now you can easily assign tasks to your team members with priorities and due dates. Project Desk will automatically notify your team members of new tasks, inform you of completed tasks and even send out reminders of past-due tasks. A complete reporting function allows you to monitor all phases of your project and get a competitive edge over your competition.

Project Desk is your own digital workplace that improves communication between your employees spread across the globe; a cutting edge net collaboration technology that enables you and your partners to bring new products in the market in record time and on shoestring budgets.

It gives you the power to closely monitor project tasks and eliminate the people-related issues that cause project failure. From Managers to Team Members, Project Desk is the medium through which projects, tasks and people can be efficiently managed.
Project Desk Features
Task Tracking
Project Desk has a highly sophisticated, built-in task-tracking system that monitors tasks assigned to team members and alerts you if a task slips past its due date. This prevents a small problem from snowballing into a big one.

Automated Emailing
Project Desk has a fully automated ?Selective emailing system? that performs peripheral tasks such as sending appropriate email to project members, whenever required. This ensures that you are free to concentrate on the core project-management functions.

Threaded Discussions
Project desk improves communication between employees drastically and aims to eliminate communication gaps that exist within teams and in the correspondence with clients and other external agencies. One way by which this is done is by providing the facility to hold Threaded Discussions. Team members can post their views and queries, to be answered or commented upon by other members. You may see the discussions for all projects or see them listed separately project-wise.

Document Sharing
Team members may even upload files documents related to a particular project. The Files Documents section shows you all the project-related files documents that users may have posted for your review. You may also search for a file document by name.

Project Reports
Project Desk gives you comprehensive project reports for all your active projects, the tasks that are pending or completed, the members of each project along with the task-related privileges each member has. It also shows you the space occupied on your Project Desk account by the files uploaded by team members. It even lets you generate your own custom reports based on the information you require. The list of project parameters that you can get reports for is exhaustive.
Benefits of Project Desk
Enhanced Communication
Project Desk is your own digital workplace that improves communication between your employees. Instead of using only email as a means of communication, people located across the globe as well as down the hall, can interact directly. Threaded discussions and document-sharing allow team members to collaborate effectively and create better products in lesser time.

Better Team Management
As the entire Project Desk application is web-based, it allows you to manage and control your project teams from anywhere, anytime. It makes it easy for you to supervise teams that could be spread all over the world.

Cost Effectiveness
As businesses become more global, project team members seem to be located in different areas of the world and business travel costs are soaring. Our application is designed to bring all project teams and project-related information together, in one central, online, organized workplace. Our mission as a company is to provide businesses with a flexible, easy and cost-effective collaborative platform for controlling project tasks and processes.

Access to Talent from across the globe
One of the chief capabilities of Project Desk is that it can be used by team members spread all over the globe, so it becomes very easy for you to tap crucial skills and talent from distant parts of the world.

No special hardware / software required
Since Project Desk is a totally web-based application, all you need to be able to use it is a sufficiently recent version of Internet Explorer / Netscape Navigator, and Internet access. You do not need to install any drivers or hardware.