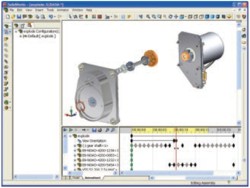 Speed the review of product designs and reduce time-to-market. Create animations that you can email quickly or publish on the web. SolidWorks Animator enables you to create compelling AVI (Audiovisual Interleave) files from SolidWorks parts and assemblies, allowing you to communicate design concepts and collaborate more effectively with anyone who has a PC.
At last – an easy-to-use, economical animation tool
Animation is a powerful tool for communicating design engineering concepts. In the past, the high cost and time required to learn animation software made it impractical for most designers and engineers to adopt. Now you can develop exciting animated images easily and economically using SolidWorks Animator.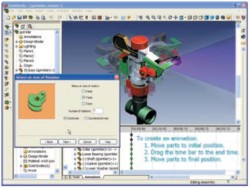 Demonstrate how products will look and perform
Capture parts and assemblies in motion by producing AVI files that can be viewed by anyone who has a Windows® PC. Maximize sales and marketing opportunities by presenting new product designs more effectively to customers and business prospects. Observe product designs from all angles and in motion, reducing the need for expensive prototypes. Add excitement to presentations and proposals. SolidWorks Animator gives you the capabilities to demonstrate how products will look and perform, for example:
Generate animations effortlessly from SolidWorks parts and assemblies using the point-and-click Animation Wizard.
Capture assembly motion instantly to show how moving parts of an assembly will interact.
Explode or collapse an assembly to demonstrate how the components of an assembly will fit together.
Fly around a model or revolve it 360° on a turntable to show what it looks like from every angle.
Simplify development of sophisticated animations with enhanced controls for explode and collapse functions as well as pacing.
Turn around product design changes fast and shorten development cycles by circulating design AVIs for review via email.
Produce design AVIs for computer-based technical support documentation and training materials.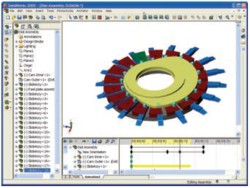 Seamless integration with SolidWorks and PhotoWorks software
SolidWorks Animator is seamlessly integrated with SolidWorks and PhotoWorks™, allowing you to easily take advantage of the unmatched solid modeling capabilities of SolidWorks and photorealistic rendering features of PhotoWorks.
Ensure accuracy through fully associative design – mating constraints are preserved and the relationships between parts, assemblies, and drawings update automatically.
Prevent errors and optimize designs by using Collision Detection to observe in real time how moving parts interact as true solids.
Improve visualization with enhanced graphical control of lights.
Create photorealistic effects by means of sophisticated ray-traced lighting effects and the ability to define material properties and apply materials to parts and features.
Increase the impact of presentations with an extensive library of materials and textures and background scenery.
Save time with easy access to built-in online help and support.
Document design processes easily with Screen Capture function
SolidWorks Animator includes a Screen Capture tool that allows you to document design production sequences and perform other functions that go beyond what is typically considered animation, for example:
Demonstrate the results of any add-on applications that provide single-window integration with SolidWorks, including Certified Gold software solutions from SolidWorks Solution Partners.
Analyze and improve design processes by rolling back and replaying the complete history of a design project.
Capture the result of any VBA (Visual Basic® for Applications) macro to document an automated design process.