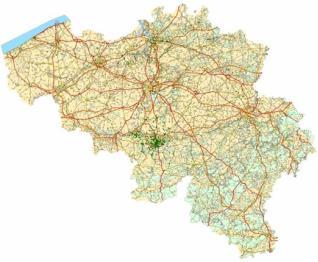 The ROADS system opens new perspectives in the planning and optimization of company resources. The ROADS system is designed for service and transport organizations delivering service/goods to the geographically spread customer base (geo-routing). The objective of the optimal planning is to have enough right people, in the right place, at the right time. This means that your planning process has to consider the geographic location of your customers, availability, location and skills of your service team, priorities, customer appointments, customer preferences, legal working hours and other regulatory compliances. ROADS' powerful optimisation algorithms will consider all the above parameters simultaneously and provide you with the right answers in just a few minutes. The optimisation is performed on a real network of roads (Tele Atlas MultiNet including all traffic regulations and restrictions). The time of appointments, relocation between customers, and servicing time at each client are fully respected. The system will self-determine the minimum amount of people with the right skills needed to perform the operation within a legal 8 hour working day. The ROADS system global optimisation engine provide optimal planning of company resources and result in operational cost savings as high as 15-20%.
Application Areas
Logistic & Dispatching
Planning (transport)
Service Operation
Planning (maintenance)
Patrolling (security)
Crisis & Emergency Management
Customers
Transport companies
Post and Courier services
Security organizations
Service organizations
Waste container collection
Geo-coding
The ROADS system includes automatic and manual geo-coding capabilities. The geo-coding automatically converts an address (e.g. 1000, Rue Royale no.15) into a uniquely defined point on the digital map (North 50°50'52", East 4°21'46"). The geo-coding algorithm resolves automatically address definition inconsistencies, spelling errors and missing house number information. The manual geo-coding operates through graphical mode and is fully interactive through the drag & drop operation. The ROADS geo-coding module will correctly locate thousands of clients on the map within sheer minutes.

Graphics Engine
The ROADS system graphical engine is developed using the latest .NET technology (GDI, C#) providing flexibility and optimal performance on local and distributed system configurations (Web-Services).
Fast and detailed graphics
Scalable dynamic graphical engine
Multilayer visualization system
Access to object properties with simple mouse click
Dual monitor support
Customizable user interface
Scalable to PDA's and portable devices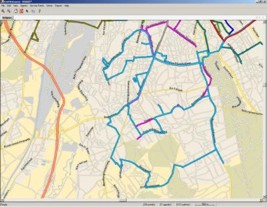 Optimization criteria and constraints
The ROADS multilevel optimization algorithms bring a global solution to the most complex resource optimization planning including scheduling (time dependent), rostering (human resource assignment), optimal route stipulation as well as emergency interaction operation. The system can be used in daily operation as well as for simulation of the mid-term and strategic operations (planning, resource assessment, etc.).
Minimization of global resource (people, etc.)
Minimization of total route length (km's)
Minimization of global operational cost
User specific optimization function
Operation constrained by legal working hours
Optimal number of depots (starting points)
Equal workload distribution
Loading capacity
Maximum number of clients
User specific constraints
System integration
The ROADS system is modular and can be easily integrated into existing IT infrastructures (Oracle, SAP, Access….) and adapted to specifics of client businesses logics. The ROADS system graphics are scalable to PDA's and portable devices allowing transparent operation in distributed environment using different devices and different operating systems.