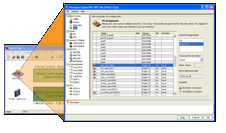 QuantiPhi is a comprehensive set of Simulink blocksets for the MPC56x and PIC18F452 microprocessors. The user friendly interface developed for the MPC56x is unique in the industry. The platform for this blockset can be reused to provide blocksets for other commonly used microprocessors.
Key Features
ConfigLink System Keeps Parameters Synchronized.
No worrying that a change in one area will break another!
Automatic Parameter Setting.
This feature allows specification of times, frequencies, and speeds in engineering units-the register settings are automatic!
Expression Folding Compliant.
Interface with the hardware with hand-code efficiency.
Support for all ROM and Custom TPU Functions.
Build a native Simulink interface to your custom microcode with QuantiPhi's TPU blocks in minutes. DIO and PWM functions included.
Sophisticated GUI interface.
Guides you in the configuration process graphically and with plain English interpretations of your settings.
Programmatic Access to Configuration Values.
Allows you to build models that can handle changes in target configuration. For example, use this powerful feature to build dynamic models that incorporate timer periods and PWM frequencies.
Seamless Scheduling.
Use rate monotonic scheduling the way you would in production. Run your application code synchronously outside of an interrupt!
Flexibility to Fit Any Model Architecture.
Make your architecture as simple or as complex as is needed. QuantiPhi scales to the needs of your application.
Full Access to All Relevant Interrupt Sources.
Microcontrollers supported:
Motorola MPC56x
Motorola Star12
Microchip PIC18F