Communicate with any TCP/IP address directly from within any Windows program
TCP-Wedge software inputs data from any TCP/IP port address directly into any Windows application... Excel, Access, FoxPro, Oracle, Wonderware, Intellution, other MMIs, LIMS, SPC programs, etc.
Full support for 2 way I/O. Receive data from, or transmit commands and data to any IP address directly from within any program.
Connect RS232 devices to an RS232 to TCP/IP converter to transmit serial data over an ethernet network. Then use TCP-Wedge software to input the data from anywhere in your facility directly into any Windows application program.
TCP-Wedge parses, filters, formats and translates incoming data so that it appears exactly as you need in any application program.
Powerful DDE capabilities.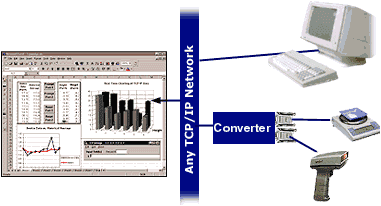 Simple 3 Step Set-up
Select the Windows application (Excel, Access, etc.) for TCP-Wedge to input data into and communicate with.
Select the IP addresses and port number for TCP-Wedge to communicate with.
Define, using simple menus, how you need your TCP/IP data to be parsed, filtered and formatted to the requirements of the application in which the data will appear.
Free with WinWedge Pro
For a limited time TCP-Wedge is being shipped FREE with WinWedge Pro.
Compatibility Requirements
TCP-Wedge is a 32 bit Windows program with minimal system requirements. It will run fine under any 32 bit version of Windows.

Awards
TCP-Wedge was awarded the #2 prize in the SCANTECH Top Ten New Products by Russ Adams, Technical Editor at Automatic ID News Magazine.

RS232 to TCP/IP Converters
Software for use with TCP-Wedge: TCP-Com. While less expensive than a converter box you would need to attach your serial RS232 devices to a Windows PC connected to the TCP/IP network.