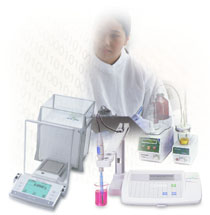 Automated Calibration Management
Nexxis CAL is a unique calibration management solution that can make calibration management an integral part of every analysis that your lab runs.
Nexxis CAL includes all of the features and functions that you need to automatically schedule, document and report your laboratory instrument calibrations:

Automate scheduling of calibrations, maintenance and repairs
Generate calibration and maintenance worklists
Maintain an inventory of laboratory instruments
Fully configurable user screens and database fields
Scaleable n-tier architecture
All data and procedures are stored at a secure central location
Includes password protection, audit trail and electronic signatures
Replacing your paper-based calibration management system with Nexxis CAL will reduce the time and resources that you need to dedicate to managing your instrument calibration program.
A new level of automation
Nexxis CAL provides a new level of automation that is not available with any other calibration management software. Nexxis CAL is the only calibration management application that can:
Collect calibration data directly from instruments
Automate calibration SOPs
Integrate directly with analytical SOPs, ensuring that only calibrated instruments are used for testing
Nexxis CAL can automatically collect calibration data from an instrument, check the data against acceptable limits, determine whether the instrument passes or fails the calibration and store the results in the calibration database.
Nexxis CAL can also be used to automate and control analytical SOPs. Any analytical SOP can now include a step to check the calibration database, to see if the instrument being used is due for calibration. If calibration is required, Nexxis CAL can automatically calibrate the instrument before continuing with the analysis.
Using Nexxis CAL to integrate instrument calibration with the automation of analytical procedures ensures, and documents, that all tests are carried out using instruments that meet laboratory standards and requirements.