Visual|Help Desk
de Datawatch

Visual Help Desk aprovecha la plataforma IBM Lotus Domino para proporcionar una solución de Help Desk y de gestión de llamadas basada en web al 100%. De bajo coste y fácil instalación, Visual|Help Desk es una solución empresarial con la que dar soporte a su actual infraestructura IT.



Visual Help Desk (Visual|HD) leverages the IBM Lotus Domino platform to provide a 100% web-based Help Desk and Call Center solution. Cost effective and easy to deploy, Visual|HD delivers exceptional value by helping you quickly:
Reduce internal IT support costs

Increase the level of service and productivity of technical staff and the employees they support
Making your Help Desk more efficient
Visual|HD reduces the number of overall calls to your Help Desk by first reducing the number of incidents submitted to the Help Desk, and second, by reducing the number of phone calls per incident once a problem has been submitted. This, in turn, frees up your technicians to more quickly resolve complicated issues.
Helping end users help themselves
The number of incidents reported are lowered by providing end users easy self help tools and providing managers the ability to quickly update end users on important information, such as a Mail Server being down.
Visual|HD reduces the number of calls per incident by enabling end users to quickly and easily enter information themselves. Even better, Visual|HD allows end users to check the status of work in progress as well as see the resolutions to their past issues. This ability alone significantly reduces the number of calls into the Help Desk.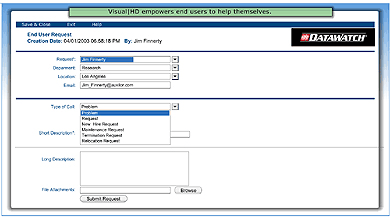 Visual|HD enables end users to quickly and easily enter information themselves.
Helping technicians become more efficient
Visual|HD will reduce your Help Desk costs by making it easier for your technicians to become more productive.
Visual|HD displays a unique Home Page for each technician. This home page organizes all of work that is currently assigned to that technician including new requests that he/she can pick up, and service bulletins. Depending on your business process, these requests can be auto assigned to technicians or groups or can be dispatched manually.
It is critical for the Help Desk to resolve as many calls on the first contact with the customer and to accurately track every call that comes into the help desk. Visual|HD's quick calls and call templates empower technicians to increase their first call resolution rate and to capture data on common calls that are often skipped due to time constraints.
Of course, not all calls can be resolved on first contact as tier 1 technicians will not have the breadth of knowledge to handle every incident. Visual|HD is designed to efficiently guide the technician to first try to resolve the issue by leveraging an integrated knowledge base. Once the call is categorized, the Tier 1 technician will be linked to relevant knowledge base items to help resolve the call.
If a technician cannot resolve the issue, Visual|HD will guide them through the process of escalating the ticket. Before the ticket can be properly escalated, the tier 1 technician can be prompted to answer required questions that the Tier 2 technician will need to begin working on the ticket, eliminating duplication of effort.
Multiple Task Management Made Easy
Often time a single request will require multiple technicians to be responsible for inter-related actions. Visual|HD allows for common requests such as rolling out new hires, terminating employees or re-locating employees to be completely automated and integrated.
Tasks can be assigned in a serial or sequential manner and assigned to specific technicians based on the type of task, employee type, location or department of the end-user.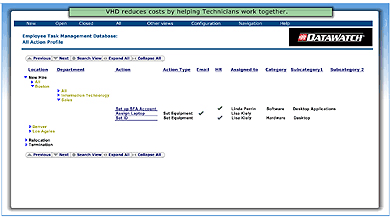 Visual|HD allows for common requests such as rolling out new hires to be completely automated and integrated across multiple technicians.
Good Reporting Makes for a Better Help Desk
Powerful reporting tools integrated into Visual|HD make it easy for Help Desk Managers to identify problem areas, measure performance of technicians, measure performance against SLAs & track customer satisfaction.
Reporting tools offered in Visual|HD include the following:
Visual|HD Today is ideal for managers to get a quick snap shot of how the help desk in doing in real time - you can identify technicians that may be falling behind, or systems that may be failing and act immediately

Detail Reports measure call volumes and performance for any given time period and for ticket variables such as dept, location, end user, asset type, root cause, etc. - these reports are ideal for measuring improved performance in critical areas

Graphical reports allow managers to quickly create pie charts, bar graphs for all the same variables as the detail reports - these graphs can be exported and included in presentations to senior management

Auto-Customer Satisfaction Survey Reports - these surveys are easily configurable to measure key statistics and the results are rolled up into turnkey reports for measuring trends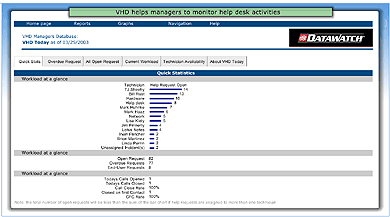 The Visual|HD Today Reporting tool lets managers to get a quick snap shot of how the help desk in doing in real time.
Visual|HD Features
Visual|HD is made up of the several functional areas. All are available through a web browser or Lotus Notes Client:
Visual|HD Incident Tracking
Incident Management
Problem Management
Look up caller and asset repair history
Multiple Forms Support
Configurable SLAs and escalations
Three or four level problem categorization
Automatic indexing with existing Kbase documents based on problem categorization
Automatic or Manual ticket routing
Quick Call and Call Template features allowing for common call types
SIMC feature allows for tracking of multiple calls for a single issue
Flexible notification options configure automatic e-mails
Auto Ticket generation from any e-mail
Full incident work and edit history
Tier 1 Technician Call Coaching
User-definable custom fields

Employee Directory Database
Identify callers by Name, Extension or unique Employee ID #
Link employees to assets
Flag VIPs
Group End Users or Technicians
Establish roles
Automatic Synchronization with Domino Directory or other such as LDAP

Asset Management
Create Custom asset types
Complete Asset Llife Cycle Management
Incident history by asset
Manage leased assets
Manage roll out and decommissioning of assets
Track repair history and status
Link assets to employees
Link to IT asset Discovery tools, LAN Desk, Tally Systems, SMS
Link to Bar Coder asset tools

Management Console
Problem Management
Leverage Turnkey Graphing to identify key problem areas
By Category
By Location
By Department
Asset Type
Service Level Performance Management
Generate Detailed reports of ability to reach SLAs
Email reports to Business Line and Senior Management
Dashboard of Real Time Statistics
Today's Calls
Closed Rate
Closed on First Contact Rate

Build Internal Knowledgebase
Self-building knowledge base from closed incidents
Knowledge generation and approval capabilities
Three level knowledge categorization
Define reader audience
Fully Customizable
Full-text indexed
Support for rich objects (video, sound, graphics, etc.)

Technicians Leverage Knowledgebase
Leverage known problem resolutions
Guide Tier 1 Technicians with knowledge scripts
Resolve more incidents at Tier 1

End-user Self Help
Frequently Asked Questions
Service Bulletins
Software Downloads
Check Status